Zabbix 3.*
1. Configuration -> Host Groups -> Create host group

Group name: group name for your sensors (example: ESP8266)

click Add

2. Configuration -> Templates -> Create template
Template name: template name for ESP8266 settings (example: Template ESP8266 Host)
Groups: add created before (example: ESP8266)
click Add

3. Configuration -> Templates -> open Template created in Step 2 -> click Items -> Create Item

Name: item name (exampe: RSSI)
Type: Zabbix trapper
Key: rssi (full list of supported keys see below)
Type of information: Numeric (float)
Units: dBm
click Add
click Create Item

Name: item name (exampe: VDD)
Type: Zabbix trapper
Key: vdd (full list of supported keys see below)
Type of information: Numeric (float)
Units: V
Use custom multiplier: tick and 0.001

click Add
click Create Item
Name: item name (exampe: DSW1 Temperature)
Type: Zabbix trapper
Key: dsw1 (full list of supported keys see below)
Type of information: Numeric (float)
Units: °C
click Add
4. click Graphs -> Create graph
Name: some name (example RSSI)
Items: Add -> select RSSI from modal window -> Select
click Add

repeat this step  for VDD and DSW1 items if you need this graphs too, now template for your ESP8266 modules is ready for use.

5. Configuration -> Hosts -> Create Host
Host name: hostname from ESP8266 module http://[esp8266 ip]/configmain
Visible name: name which will be displayed in zabbix interface
Groups: created before (example: ESP8266)
Switch to Templates tab and click Select near Link new templates a new window will appear, select group created in 1. step and tick your template, after clicking Select window will be closed and selected template will appear near Link new templates, click Add link and now Host setup is done, click Add.

Zabbix now ready for receiveing data from ESP8266 modules. Don't forget about Zabbix Server config "StartTrappers" by default it is off.

http://[esp8266 ip]/configsrv
1. tick Enable Zabbix sender. Period: (example: 60)

2. IP adress: your zabbix server ip
3. Port: 10051 (default)

click Set

If connection between zabbix server and esp8266 module is ok, zabbix will start receiving data from esp8266 module every 60 and will start graphing added items.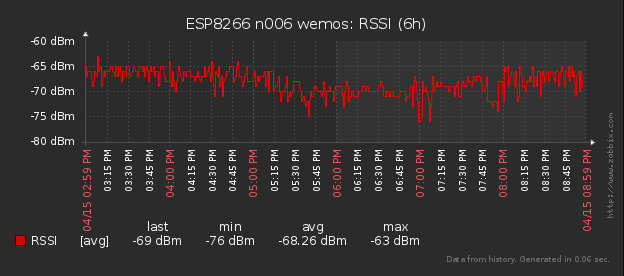 Внимание ! Имена некоторых метрик поменялись с 6.02.21 !! Новые имена можно посмотреть на вкладке Metrics на самом модуле. 

| Key | |
| --- | --- |
| idesp | ID устройства |
| hostname | Имя устройства |
| mac | MAC адрес устройства |
| wanip | IP адрес устройства |
| freemem | Свободное ОЗУ |
| ver | Версия и дата сборки прошивки |
| uptime | Время работы |
| rssi | Уровень сигнала (нет на старых SDK) |
| apdsc | APDS9960 Освещенность |
| apdsr | APDS9960 Освещенность красный |
| apdsg | APDS9960 Освещенность зеленый |
| apdsb | APDS9960 Освещенность синий |
| thermo_setX | Установка термостата |
| thermo_enX | Состояние термостата вкл/выкл |
| ccsco2 | CO2 датчика CCS811 |
| ccstvoc | TVOC датчика CCS811 |
| lorsXY | Метрики LORA |
| rtd | MAX31865 Температура |
| hdct | Температура датчика HDC1080 |
| hdch | Влажность датчика HDC1080 |
| pmspm10 | PM1.0 |
| pmspm25 | PM2.5 |
| pmspm100 | PM1.00 |
| vl53l0x | Расстояние VL53L0X |
| mbYYXX | ModBus метрики |
| as5600 | Угол AS5600 |
| gpslat | Широта GPS приемник |
| gpslon | Долгота GPS приемник |
| heightgps | Высота GPS приемник |
| speedgps | Скорость GPS приемник |
| coursegps | Курс GPS приемник |
| numsatgps | Количество спутиков GPS приемник |
| btXrssi | BT HUB RSSI |
| btXt | BT HUB Температура |
| btXl | BT HUB Освещенность |
| btXf | BT HUB Плодородие |
| btXm | BT HUB Влажность(почвы) |
| btXh | BT HUB Влажность |
| btXb | BT HUB Заряд батареи |
| shtc3t | Температура SHTC3 |
| shtc3h | Влажность SHTC3 |
| csev | Напряжение на CSE7766 |
| csec | Ток на CSE7766 |
| csee | Потребление суммарно CSE7766 |
| csea | Active Power CSE7766 |
| csef | Power Factor CSE7766 |
| adc | Внутренний АЦП (ESP8266) |
| iadcX | Внутренние АЦП (ESP32) |
| lm | Температура с датчика LM75 или DS1621 |
| inav | Напряжение с датчика INA219 |
| inac | Ток с датчика INA219 |
| dhttХ | Температура датчиков DHT22 DHT11 |
| dhthХ | Влажность датчиков DHT22 DHT11 |
| bmpt | Температура датчиков BMP180/085 |
| bmpp | Давление датчиков BMP180/085 |
| cntXi | Данные с счетчика 60 |
| light | Освещенность с датчика BH1750 |
| amt | Температура с датчика AM2321 |
| amh | Влажность с датчика AM2321 |
| dswX | Температура датчиков DS18B20 |
| bmet | Температура с датчика BME280 |
| bmeh | Влажность с датчика BME280 |
| bmep | Давление с датчика BME280 |
| shtt | Температура с датчика SHT21 |
| shth | Влажность с датчика SHT21 |
| sht30t | Температура с датчика SHT30 |
| sht30h | Влажность с датчика SHT30 |
| heat | Температура с термопары MAX6675 |
| cvv | Напряжение с устройства CC/CV |
| cvc | Ток с устройства CC/CV |
| pmv | Напряжение с устройства Power Monitor |
| pmc | Ток с устройства Power Monitor |
| pmw | Мощность с устройства Power Monitor |
| pmwh | Расход с устройства Power Monitor |
| rfid | Данные с RFID |
| co2 | Датчики CO2 MH-Z1x |
| ping | ping тест статус |
| adcX | Данные с АЦП PCF8591 |
| rcdata | Прием кода с радио пульта |
| rtct | Температура DS3231 |
| nrfYcX | Счетчик с модулей NRF24 |
| nrfYtX | Температура с модулей NRF24 |
| nrfYhX | Влажность с модулей NRF24 |
| nrfYaX | АПЦ с модулей NRF24 |
| nrfYgX | Состояние GPIO с модулей NRF24 |
| nrfYbX | Другие данные с модулей NRF24 |
| rssigsm | RSSI GSM |
| irdata | Прием кода с ИК пульта |
| pcfcntX | Счетчик импульсов PCF8583 |
| rcsXt | Температура с модулей RC датчик |
| rcsXh | Влажность с модулей RC датчик |
| rcsXa | АЦП с модулей RC датчик |
| countrstX | Счетчики импульсов сбрасываемый. |
| counterX | Счетчики импульсов. |
| gpiointX | Событие прерывания |
| pwmX | Состояние ШИМ |
| gpioX | Состояние GPIO входа |
| gpioutX | Состояние выхода и установка |
| valuedesX | Глобальные переменные конструктора кода |
| scale | Весы HX711 |
| mcpa1 | Данные с АЦП MCP3201 |
| ring | Номер входящего звонка из GSM модуля |
| sms | Текст входящей SMS GSM модуля |
| tel | Номер телефона при входящей SMS GSM модуля |
| dtmf | Входящая команда DTMF GSM модуля |
| adsX | Данные с АЦП ADS1115 |
| nexX | Данные с дисплеев Nextion. Прием нажатий с сенсорного экрана |
| vzco2 | CO2 VZ-89T |
| nlXt | Температура с датчиков NooLite |
| nlXh | Влажность с датчиков NooLite |
| hcsr04 | HC-SR04 |
| tsllux | Данные с TSL2561 |
| ibutton | ID iButton ключа |
| ibuttonst | Статус ключа iButton |
| upsi | Данные с UPS Монитора. Напряжение на входе. |
| upsf | Данные с UPS Монитора. Напряжение на входе. |
| upso | Данные с UPS Монитора. Напряжение на выходе. |
| upsh | Данные с UPS Монитора. Частота сети |
| upst | Данные с UPS Монитора. Температура в корпусе |
| upsb | Данные с UPS Монитора. Напряжение батареи. |
| upss | Данные с UPS Монитора. Нагрузка |
| mlxo | Температура объекта MLX90614 |
| mlxa | Температура окружающая MLX90614 |
| vwtXY | Температура с VirtualWire |
| vwhXY | Влажность с VirtualWire |
| vwcXY | Счетчики с VirtualWire |
| vwaXY | АЦП с VirtualWire |
| vwbXY | Один байт с VirtualWire |
| hlw_w | HLW8012 (Sonoff POW) Мощность |
| hlw_v | HLW8012 (Sonoff POW) Напряжение |
| hlw_c | HLW8012 (Sonoff POW) Ток |
| hlw_wh | HLW8012 (Sonoff POW) Ватт/ч |